Belajea: Jurnal Pendidikan Islam is a peer-reviewed journal on Islamic education field and intended to communicate original research and current issues on the subject. This journal is published by Institut Agama Islam Negeri (IAIN) Curup. The editors welcome scholars, researchers and practitioners of Islamic education around the world to submit scholarly articles to be published in this journal. All articles will be reviewed by experts before accepted for publication. Belajea: Jurnal Pendidikan Islam published periodically every May and November (twice a year).


ISSN:
2548-3390
(print)
ISSN:
2548-3404
(online)
E-mail: belajea@iaincurup.ac.id and jurnalbelajea@gmail.com
Website: http://journal.staincurup.ac.id/index.php/belajea
Belajea: Jurnal Pendidikan Islam has become a CrossRef Member since the year 2017. Therefore, all articles published by Jurnal Pendidikan Islam will have unique DOI number.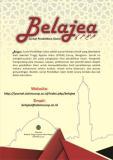 Announcements
No announcements have been published.
Vol 5, No 2 (2020)
Table of Contents
Articles
| | | |
| --- | --- | --- |
| | Devfy Kartikasari, Zulfikar Mujib | 181-198 |
| | | |
| --- | --- | --- |
| | Siti Rohmaturrosyidah Ratnawati, Wilis Werdiningsih | 199-220 |
| | | |
| --- | --- | --- |
| | Muslim Afandi, Zuraidah Zuraidah | 221-242 |
| | | |
| --- | --- | --- |
| | Zaedun Na'im, Siswanto Siswanto | 263-276 |
| | | |
| --- | --- | --- |
| | Fahrudin Fahrudin, Sepma Pulthinka Nur Hanip | 277-288 |
| | | |
| --- | --- | --- |
| | Nurma Yunita, Femalia Valentine | 289-308 |
| | | |
| --- | --- | --- |
| | Harmonedi Harmonedi, M Zalnur | 309-338 |
| | | |
| --- | --- | --- |
| | Ika Damayanti, Muhammad Shaleh Assingkily, Izzatin Kamala | 339-358 |
| | | |
| --- | --- | --- |
| | Muhammad Anshar, Ismail Ismail, Anik Zakariyah, Adam Ahmad Syahrul Alim | 359-374 |