Arabiyatuna : Jurnal Bahasa Arab is a refereed publication devoted to research articles, reports, and book reviews concerned with the teaching and learning of Arabic as a Foreign Language. This journal dedicated to enhancing and disseminating scholarly work in the field of Arabic Language Teaching and Linguistics. This journal is an academic journal that published twice a year in May and November by Institut Agama Islam Negeri (IAIN) Curup, in partnership with IMLA (Association of Arabic Lecturers).
Mailing Address: Umea' Jurnal IAIN Curup, Jl. Dr. Ak. Gani No. 01 Curup, Rejang Lebong, Bengkulu. 39119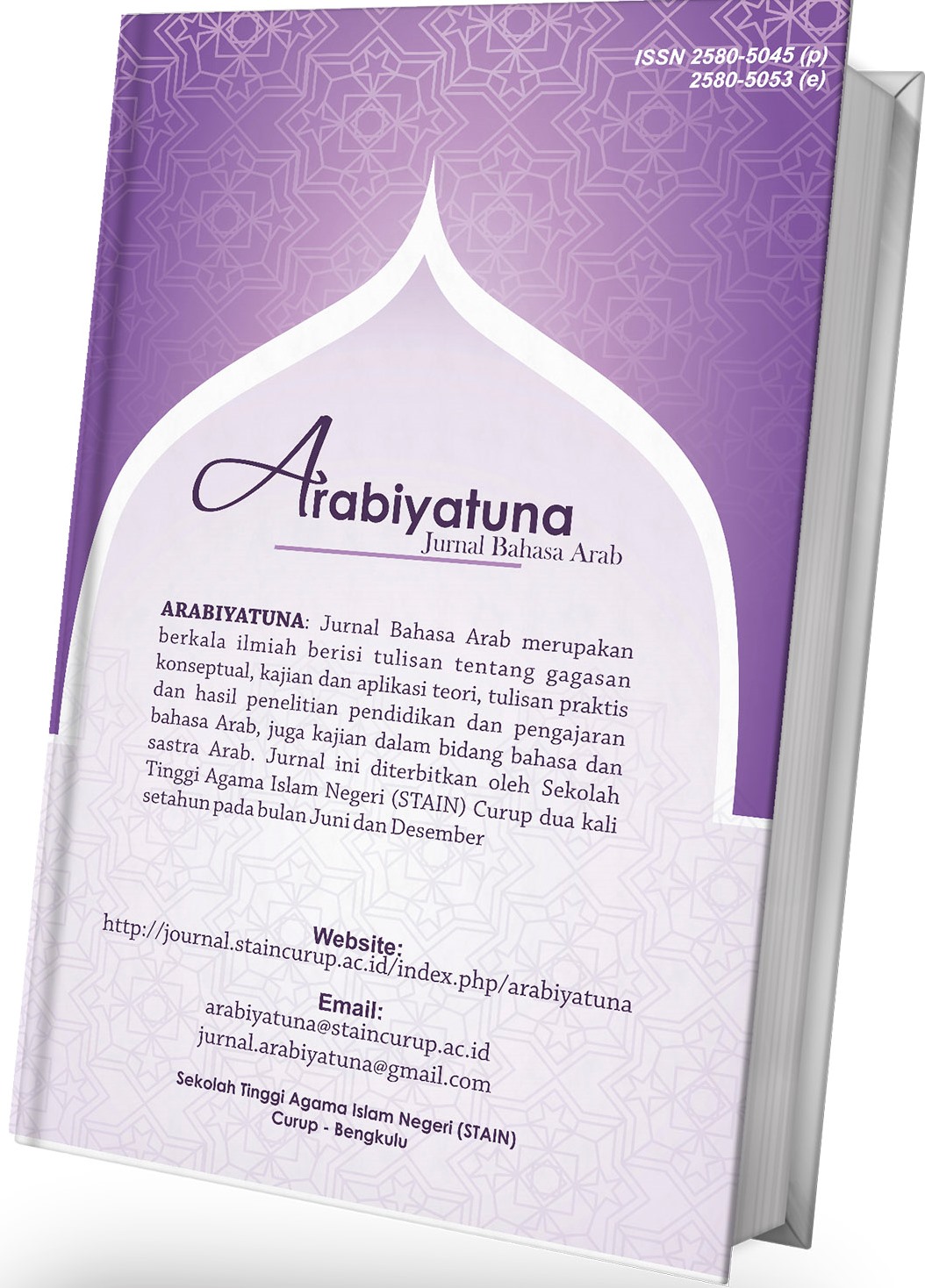 Announcements
No announcements have been published.
Vol 4, No 2 (2020)
Table of Contents
Articles
| | | |
| --- | --- | --- |
| | Abdul Wahab Rasyidi, Suci Ramadhanti Febriani | 193-210 |
| | | |
| --- | --- | --- |
| | Mahfuz Rizqi Mubarak, Nurul Wahdah, Aulia Mustika Ilmiani, Hamidah Hamidah | 211-226 |
| | | |
| --- | --- | --- |
| | Muhammad Thohir, Abdul Kirom | 227-250 |
| | | |
| --- | --- | --- |
| | Raden Ahmad Barnabas, Siti Jubaidah, Tutik Cholisotin | 251-264 |
| | | |
| --- | --- | --- |
| | Koderi Koderi, Muhammad Aridan, Ahmad Bukhari Muslim | 265-278 |
| | | |
| --- | --- | --- |
| | Umi Hanifah, Imam Mahmudi | 279-300 |
| | | |
| --- | --- | --- |
| | Muhammad Arif Mustofa | 333-346 |
| | | |
| --- | --- | --- |
| | Khairul Anhar, Rahimah Rahimah, M. Husnan Lubis | 347-368 |