ESTETIK: Jurnal Bahasa Indonesia is published by Institut Agama Islam Negeri (IAIN) Curup. It publishes research-based articles in the field of language, literature, and learning. It is published twice a year; in May and November. The scopes of the topics include: 1) Indonesian language for foreigners, Indonesian language, Indonesian language teaching; (2) Linguistics; (3) Applied Linguistics, and; (4) Literature Teaching. Articles can be written in English, Indonesian or Malay.
The Editorial Board invites scientists, scholars, professionals, and researchers in the disciplines of the Bahasa Indonesia to publish the results of their research after the selection of manuscripts, with the peer review and the editing process.
Address: Umea' Jurnal IAIN Curup, Jalan Dr. Ak. Gani No. 01, Telp. (0732) 21010 Curup, Rejang Lebong, Bengkulu 39119
E-mail:  estetik@iaincurup.ac.id
Website: http://journal.iaincurup.ac.id/index.php/estetik
ISSN :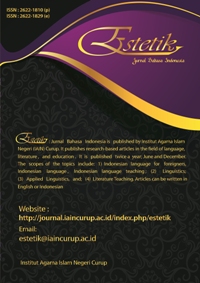 Announcements
No announcements have been published.
Vol 6, No 1 (2023)
Table of Contents
Articles