ENGLISH FRANCA : Academic Journal of English Language and Education is an Open Access Jurnal that refereed publication devoted to research articles, reports, and book reviews concerned with the teaching and learning of English as a Foreign Language. This journal dedicated to enhancing and disseminating scholarly work in the field of English Language Teaching and Linguistics. This journal is an academic journal that published twice a year in May and November by Institut Agama Islam Negeri (IAIN) Curup.
Mailing Address: Umea' Jurnal Institut Agama Islam Negeri (IAIN) Curup Add. Dr. Ak. Gani No. 01 Curup Rejang Lebong Bengkulu Phone: (0732)-21010
Email: efranca@iaincurup.ac.id or efranca.journal@gmail.com
Website: http://journal.iaincurup.ac.id/index.php/english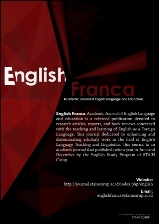 Announcements
No announcements have been published.
Vol 3, No 02 (2019)
Table of Contents
Articles
| | | |
| --- | --- | --- |
| | Syafryadin Syafryadin | 109-124 |
| | | |
| --- | --- | --- |
| | Dewi Warna, Beni Wijaya, Eka Sartika, Winny Agustia Riznanda | 125-148 |
| | | |
| --- | --- | --- |
| | Heli Agustin, Leffi Noviyenty, Henny Septia Utami | 149-180 |
| | | |
| --- | --- | --- |
| | Rita Inderawati, Sofendi Sofendi, Mulyadi Eko Purnomo, Machdalena Vianty, Didi Suhendi | 181-196 |
| | | |
| --- | --- | --- |
| | Irah Khoiriyah Azzahra | 197-222 |