Fokus Jurnal Kajian Keislaman dan Kemasyarakatan is an open access research journal, published in May and November. Fokus Jurnal Kajian Keislaman dan Kemasyarakatan (FJK3) aims at publishing articles and short research notes particularly in the areas of Islamic religious, Islamic cultural, Islamic mysticism. Moreover, the focal objective of Fokus Journal is to enhance and promote the research knowledge and skills of academicians, researches, practitioners and the students of all over the world. Consequently, FJK3 welcomes rigorous theoretical and empirical research papers, case studies, literature reviews, book reviews, chapter reviews, and research notes. This journal is published in Online versions. Interested readers can access or download the online version of FJK3 free.
E-mail : fokus@staincurup.ac.id
P-ISSN: 2548-334X dan E-ISSN: 2548-3358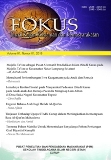 Announcements
No announcements have been published.
Vol 4, No 2 (2019)
Table of Contents
Articles
| | | |
| --- | --- | --- |
| | Ahmad Danu Syaputra, Fitria Fitria, Dheo Rimbano | 149-172 |
| | | |
| --- | --- | --- |
| | Muharman Muharman, Jendrius Jendrius, Indradin Indradin | 173-194 |
| | | |
| --- | --- | --- |
| | Ira Novelia, Azwar Azwar, Elfitra Elfitra | 195-212 |