Tadbir : Jurnal Studi Manajemen Pendidikan is a scientific periodical published by the Institut Agama Islam Negeri (IAIN) Curup, specializing in the study of the science of management education. Articles published in this journal are conceptual ideas, study and application of theory, practical writing and research results. This Journal is in collaboration with Perkumpulan Program Studi Manajemen Pendidikan Islam (PPMPI) Indonesia with this link http://ppmpi.net/journal// 
The managers invite scientists, scholars, professionals, and researchers in the discipline of Educational Management Science to publish their research results after through the selection mechanisms of the manuscript, the study of the Expert Reviewer, and the editing process.
Address: Umea' Jurnal IAIN Curup, Jalan Dr. Ak. Gani No. 01, Telp. (0732) 21010 Curup, Rejang Lebong, Bengkulu 39119
E-mail : tadbir@iaincurup.ac.id and cc to: jurnal.tadbir@gmail.com
Website : http://journal.iaincurup.ac.id/index.php/JSMPI
ISSN :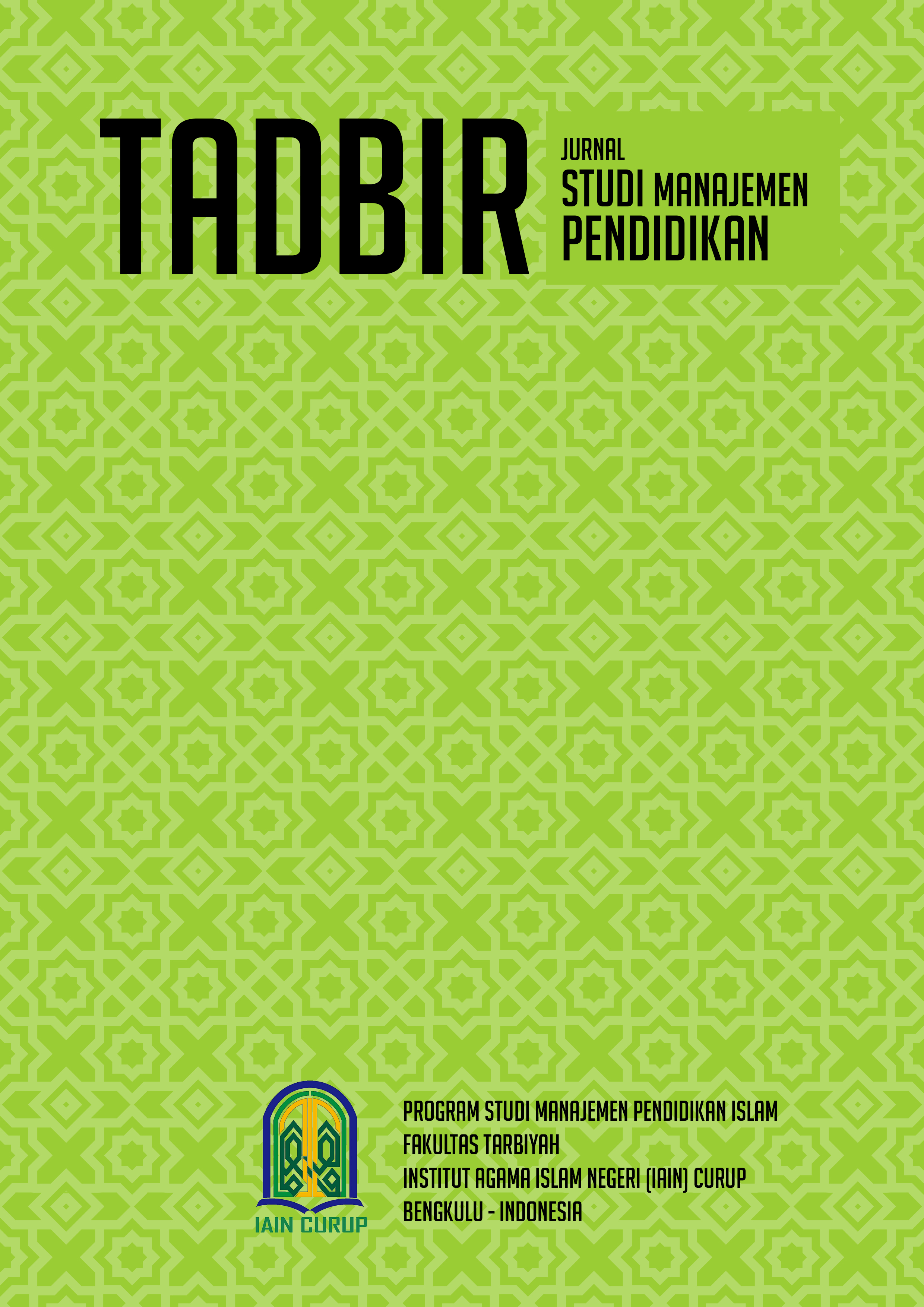 Announcements
No announcements have been published.
Vol 4, No 2 (2020)
Table of Contents
Articles
| | | |
| --- | --- | --- |
| | Irwanto Irwanto, Zainal Arifin | 189-200 |
| | | |
| --- | --- | --- |
| | Miftahul Huda, Rhoni Rodin | 201-214 |
| | | |
| --- | --- | --- |
| | Beni Azwar, Wandi Syahindra, Rini Widyastuti | 215-232 |
| | | |
| --- | --- | --- |
| | Mustaqim Mustaqim, Muhammad Hanif Fahmi, Lian Agustina Setiyaningsih | 233-254 |
| | | |
| --- | --- | --- |
| | Yayah Rahyasih, Johar Permana, Liah Siti Syarifah | 255-268 |
| | | |
| --- | --- | --- |
| | Ratih Kusuma Wardani, Heru Santosa, Desi Rahmawati | 281-290 |
| | | |
| --- | --- | --- |
| | Huri Suhendri, Mailizar Mailizar, Rita Ningsih, Rita Retnowati | 291-302 |